Time Off Cloud has three types of calendar functionality. Web Portal Calendar, Email Calendar Invitation, and Calendar Subscription with iCal Feed.
Web Portal Calendar
The content of the Calendar is customizable. By Default, the employee can only see their own Time Off entries and company holidays.
Selecting the Between Department Employees setting will allow all employees within the same department to see each others days off. For multiple sub departments under the same department the employee will only be able to see days off within their own sub department.
Switching to the Between All Employees setting, allows everyone in the organization to see everyone elses days off.
You can customize this setting on the Settings -> General Settings screen.
Email Calendar Invitations
All approved Time Off Requests include an invitation.ics file which the employee or manager can use to add the event to their calendar.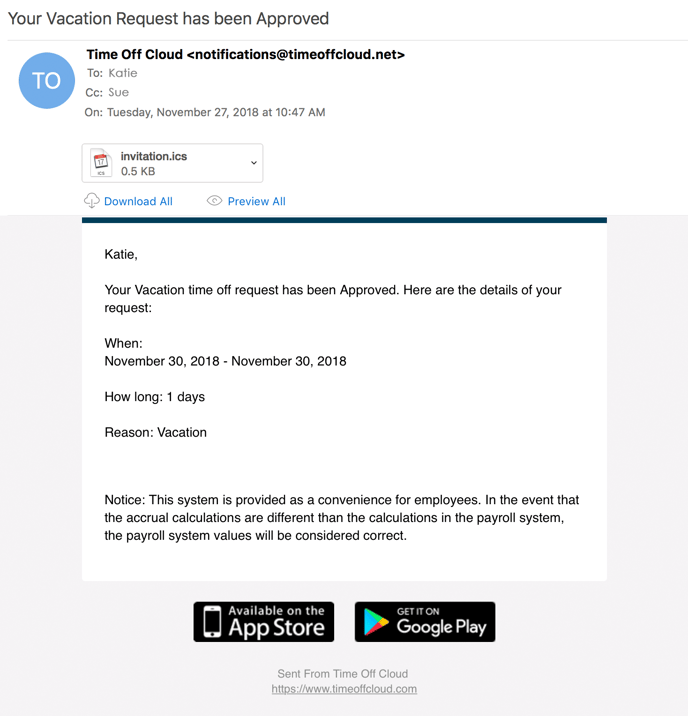 Calendar Subscription with the iCal Feed
iCal Feed (also known as iCalendar Feed) is a standard internet technology used to publish calendars. It is used by standard calendar applications such as Apple Calendar, iOS Calendar, Outlook, Office365, and Google Calendar.

See our article on setting up the Calendar Subscription