Non-accruing leave type setup [+Video]
Step-by-Step Instructions
Time Off Cloud makes it easy to setup non-accruing Leave Types in a Leave Policy. Non-accruing Leave Types can be used for tracking things like Unpaid PTO, Work From Home, Jury Duty or even COVID-19 Vaccinations
From the Settings->Leave Policies menu, edit the Leave Policy you wish to add the new Leave Type Policy to.
Now click the Add Leave Type button as shown below.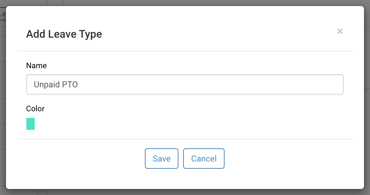 To enable the Leave Type set "Enable the Leave Type Leave Type Name in this Leave Policy" to Yes.
Make sure the setting "Should the system automatically calculate accruals and update the employee's Leave Type Name Leave Type?" is set to No.
Here is an example:

After you save the policy, your employee's that are assigned the Leave Policy will have the new Leave Type available to select.